Of all the home goods to shop for, I think shopping for rugs is the most difficult. Let's face it: they're expensive! Some home items are worth an investment, but personally I just can't justify high price tags on something designed to be stepped on.
Besides, I have three little kids, so spills and stains on rugs are not a matter of if, but when.
Needless to say it takes me a good long while to find and settle on a quality rug in the right color scheme, at the right price point, and with a suitable level of durability for our family's lifestyle. But once found, the right rug can be a dream! It can tie a room together and provide texture and warmth to an otherwise barren space.
So to save you the trouble (and sweat and tears and and returns) that I have so painstakingly endured, I've rounded up a reference of rugs in my very real life, very lived in home that check all the boxes! Every rug I've listed below can be purchased online, has withstood the torrent of daily life with toddlers, and won't break the bank!
When we bought our house, the concrete around the front door had rust stains from the previous owner's planters. I knew a good rug could cover those stains, and provide the perfect backdrop for a happy and cheerful front porch.
I love the colors and pattern of this rug. It is light enough to feel bright and clean, but patterned enough to hide dirt and stains!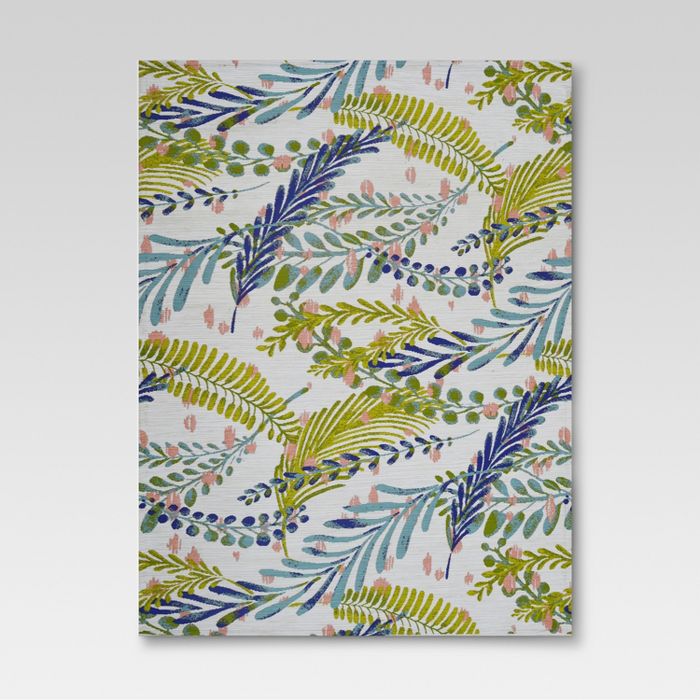 We live in a split level house, and when you walk in there is a small landing before you go upstairs to the living space or downstairs to the bedrooms and playroom. I wanted the first glimpse of our home to feel warm and welcoming, but I didn't want to compete with the pretty floors. This jute circle rug does the trick, and is such great quality for an amazing price! (I use these to keep rugs on hardwood from slipping.)
This rug is the perfect combination of softness and durability for play. It's such great quality for the price that I'm thinking about snagging the pink and green one for my daughter's bedroom!
I wanted something warm, welcoming, and cozy feeling for this little space in our home. I love how the colors in this rug make it classic while the pattern keeps it unique. It also comes in a teal and red color scheme which I think is absolutely dreamy!
If you're thinking about putting a rug under your dining table, I'd suggest an outdoor rug! This one is large, so durable, and incredibly easy to clean. I love that it is light and also stain concealing! The blue rug I have is still in stock on Amazon, but this blue or brown floral trellis pattern is a gorgeous option as well for under $140!
Finding a rug for this room was the most difficult. I needed a 10×14 to fit under our sectional that wasn't too light, too dark, or, because it's an oversized rug, too expensive. This one fits the bill. It's textured, which I absolutely love, and it is equal parts inviting and moody! I love the way rugs look under beds. I wanted something neutral to unify the warm and cool tones in the room. The pattern is subtle enough to play well with existing patterns in any room, and it often goes on sale for under $100! These are some other options from Amazon I absolutely love in the same color scheme as well!
The small patio off of the kitchen is white wood and it showcases every muddy footprint and popsicle drip that hits it with glaring obviousness. We need a rug for this space, and right now I am torn between this green checked rug, which is happy and bright, or this neat pink one!
There is a narrow landing at the bottom of the deck stairs that is only wide enough for a couple of chairs. Still, I wanted to cover the rock salt concrete finish and make this landing feel like it's own space. This pretty vintage floral rug is happy, playful and interesting without being too bold! I love how this rug keeps the chairs from just "floating" here and makes this otherwise useless area feel like a dedicated space to sit in the sun and watch the kids run on the grass.
Practically speaking, this part of the backyard gets the most traffic from off the grass. So to conceal all kinds of dirt, mud, and s'more remnants, I went with this extremely durable, dark brown area rug for this cozy spot. The exact one I purchased is no longer in stock, but this one, this one, and this one all have similar vibes!
Finally, I wanted a way to make sure the kids' feet were as clean as possible before they move from outside to inside to the playroom. What better way than to have them walk across an entire outdoor runner? This rug is durable, textured, brown, and cleans the little feet that pitter patter across it from the rock pit into the playroom with ease.