Shopping for baby shoes is the best. You can buy the absolute most adorable, entirely non-functional, stylish little footwear to compliment every outfit and it doesn't even have to fit right. Your little one will happily wear them for all the photos and you can return them to the closet in mint condition.
When your child starts walking, however, you might notice that shopping for toddler shoes can be difficult, time-consuming, and expensive. Beginning walkers are tricky. Their feet are growing quickly, they frequently hate wearing shoes, and they need something that's sturdy enough to stand up to scrapes, while at the same time, being light enough — and not too bulky — that they don't trip over their shoes.
They trip enough, without tripping over their shoes.
I have triplets tripping about at my house, and my boys all have very different feet. And their personalities are even more different. After shopping high and low and many pairs of shoes later:
Here's what I consider a quality toddler shoe.
Good fit. I have one child with very wide feet and it was much more challenging to find a shoe that fit him, than for his brothers. Whatever shoe it is, should fit. Nothing groundbreaking about this, just do check it off your list.
All-purpose. Because I have three, I don't want to buy a pair of play shoes AND a pair of dress shoes in each size. That would be 6 pairs in size 5, 6 pairs in size 6, etc. I'm looking for the "one style fits all" approach (is that a thing?)
 Good value. Children outgrow shoes quickly. I don't mind spending a little more for a good quality shoe that will be sturdy, provide support, and last a while, but I won't usually splurge for the top of the line shoe — because toddler shoes are like cars. They lose value the second you drive them off the lot.
Children can't remove them. One time, we arrived at the library and had to leave 10 minutes later because my children just kept taking off their shoes and the librarian kept frowning that shoes are required. They're too young to reason with, when they first start walking, so I look for a non-negotiable shoe that chubby fingers can't pry off too easily.
Cute. Nothing else to say about this one.
Ok, now that you know everything there is to know about this delicate science of picking a toddler shoe (ha), let's get to the shoes.
Here are my top three picks*:
*sorry, I only have boys, so lots of boy shoes here. Girl shoe picks at the bottom of the page!
These are Sperrys, and they are great for my child with a wide foot. We had to look around for a while for a shoe that would fit him, AND that he couldn't constantly take off, as he was my leading shoe removing culprit.
They have a distressed look right out of the box (in this color), so don't let the above photo fool you. These are very sturdy and have held up great after 6 months of wear and tear from a child who is very rough on shoes.
While they probably aren't nice enough to wear to a wedding or super formal occasion, we think they're fine to wear basically everywhere else.
These are super cute (faux suede!), and very inexpensive, from Old Navy. I love that they go with basically anything, and can be dressed up or down. My child also seems to find them very comfortable. However, I can't recommend this specific pair, because they slide off ALL the time. There is nothing worse than wrangling your child in and out of carseats, strollers, etc., meanwhile having to replace his shoes over and over.
Or, driving, and being hit in the back of the head by one of these shoes because your child thinks it's most fun to throw them in the car (happens daily).
If you like the look of these shoes, there are tons out there that are inexpensive and that go with everything. Here are a few similar options with good reviews: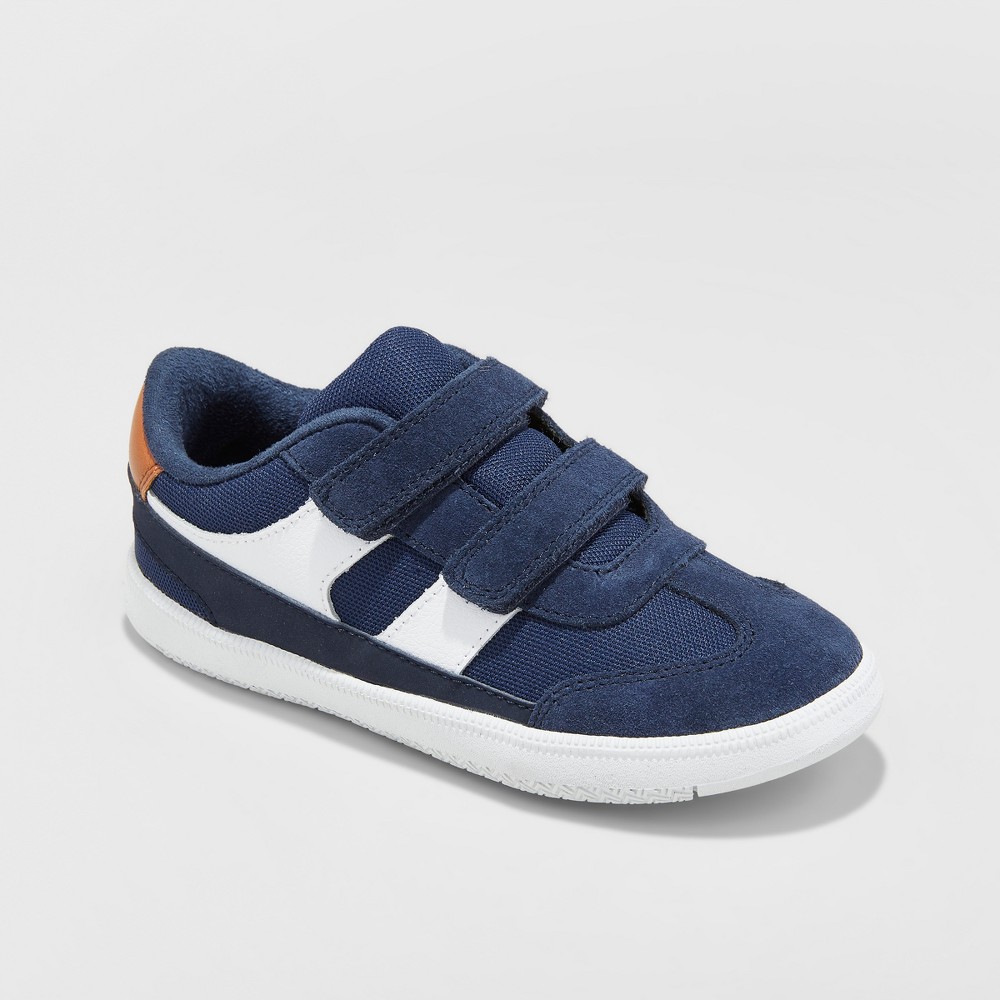 I think these are my favorite shoe we've tried so far — Target does it again with these budget friendly Cat & Jacks. They aren't easily removed by a squirmy toddler and they actually even fit my wide-footed child. The only downside to these is that like many things at Target, it's likely that every child in the class has these shoes.
Great moms think alike.
Need more ideas?
Here are a few sturdy options that I've tried and can personally recommend, or, come highly recommended by fellow moms:
For Boys
For Girls: 
The classic little girl shoe that is super comfortable and go with everything. Cute and stylish, little girls love these.
These pink ankle boots are adorable! The bow on the side is a fun twist. Perfect for fall, winter and spring.
Looking for a good running shoe? This Nike shoe is great for foot development and toddling about, forming nicely to little toddler feet.
A go-to shoe for comfort and mobility is Stride Rite's Soft Motion sneaker. These are easy to love because they have flexible soles and encourage natural movement.
If you have a great toddler shoe to recommend, comment below! I'm sometimes always in the market!
Shop this Post: