Do you ever stumble across something that you absolutely love, but are hesitant to incorporate into your home because it might not be "in"? Four years ago when we remodeled our kitchen, I fell head over heals for this creamy-white leaf patterned backsplash mosaic. The moment I saw it I thought, "This is me!"
I promptly ordered the necessary amount of tile, thrilled I'd finally found something unique that I loved and that was within our budget. But almost immediately after I clicked "order" I began to doubt.
"I've never seen this kind of backsplash in a kitchen before," I thought. "What am I thinking? It's too risky and this isn't 'in.' I should reconsider." Right when I was about to swap the leaf mosaics for tile that was more trendy, my sister-in-law gave me the most simple and brilliant advice. She said, "It's your house. If you love this tile, you should go for it."
So, I did.
That experience showed me the value of being confident in my preferences and staying true to my own personal aesthetic, regardless of what is in vogue. Sometimes our personal design style might align with what is trending, and sometimes it might not. But if we make home design choices for ourselves and our families then we can know that when the trends fade, as they always do, we'll be happy with our choices (regardless of what's in or out).
So, whether you're remodeling your entire kitchen or looking for a fun way to make a big impact with minimal demo, I've rounded up 5 unique backsplash ideas that I hope will inspire you to think outside the box and see the potential of going for what you love, too.
The variance of creams and warm greiges in this marble mosaic tile brings such depth and interest! It's so cool how the tumbled marble provides a physical texture that echos the patterned "texture" of this modern basketweave. A classic white Carrera countertop, clean cream cabinets, and oil rubbed bronze hardware would be so beautiful paired with this backsplash.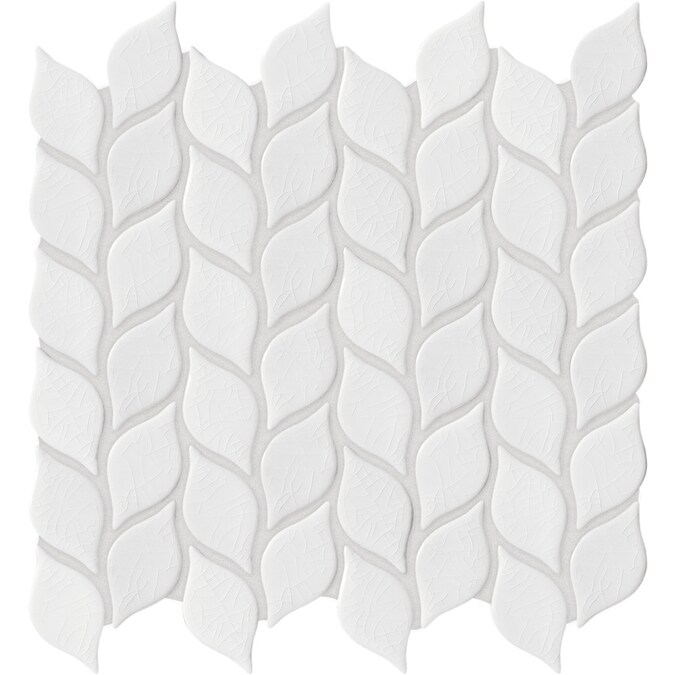 2. Anatolia Tile Vanilla Leaf in Crackled Ceramic
This is the storied tile! I love how uniqueness of the ceramic leaf pattern maintains a classic feeling due to the crackled vanilla finish. The "movement" of the leaves adds a subtle energy to the kitchen while the high-shine cream color keeps things looking clean and fresh. This backsplash works anywhere you would put white subway tile (so, basically everywhere)!
3. White Oak Arched Herringbone 3D Honed Mosaic
Can't you envision how the basketweave pattern of this marble tile would bring texture and dimension to the kitchen? I love how the softness of the gray and cream tones is accentuated by the rounded shape of each tile and the matte honed surface. Think of this backsplash with walnut cabinets, warm veined marble countertops, a copper apron sink and mauve textiles.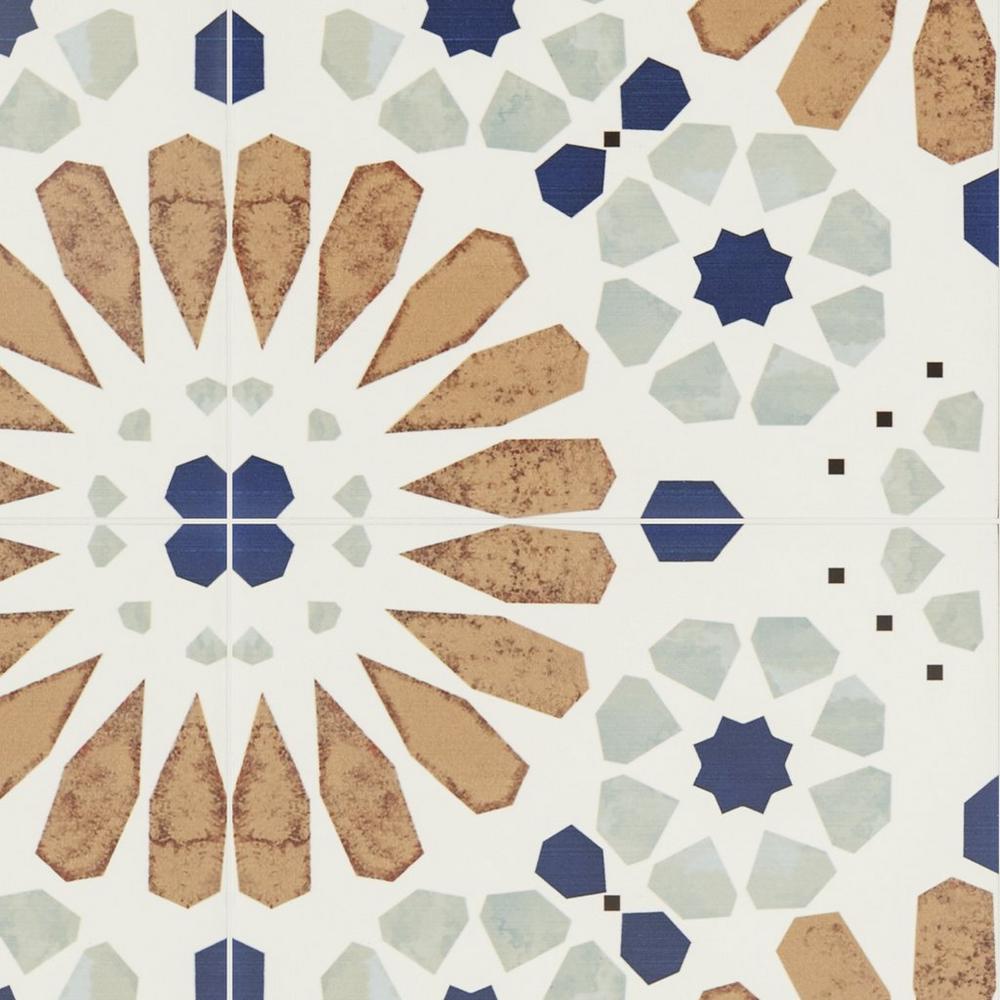 This square porcelain tile is beyond fun. The colors are easy, warm, and classic and the geometric flower pattern emits a down to earth and playful vibe. I love this with a butcher block countertop, matte black cabinet hardware, and texture on the cabinets and light fixtures!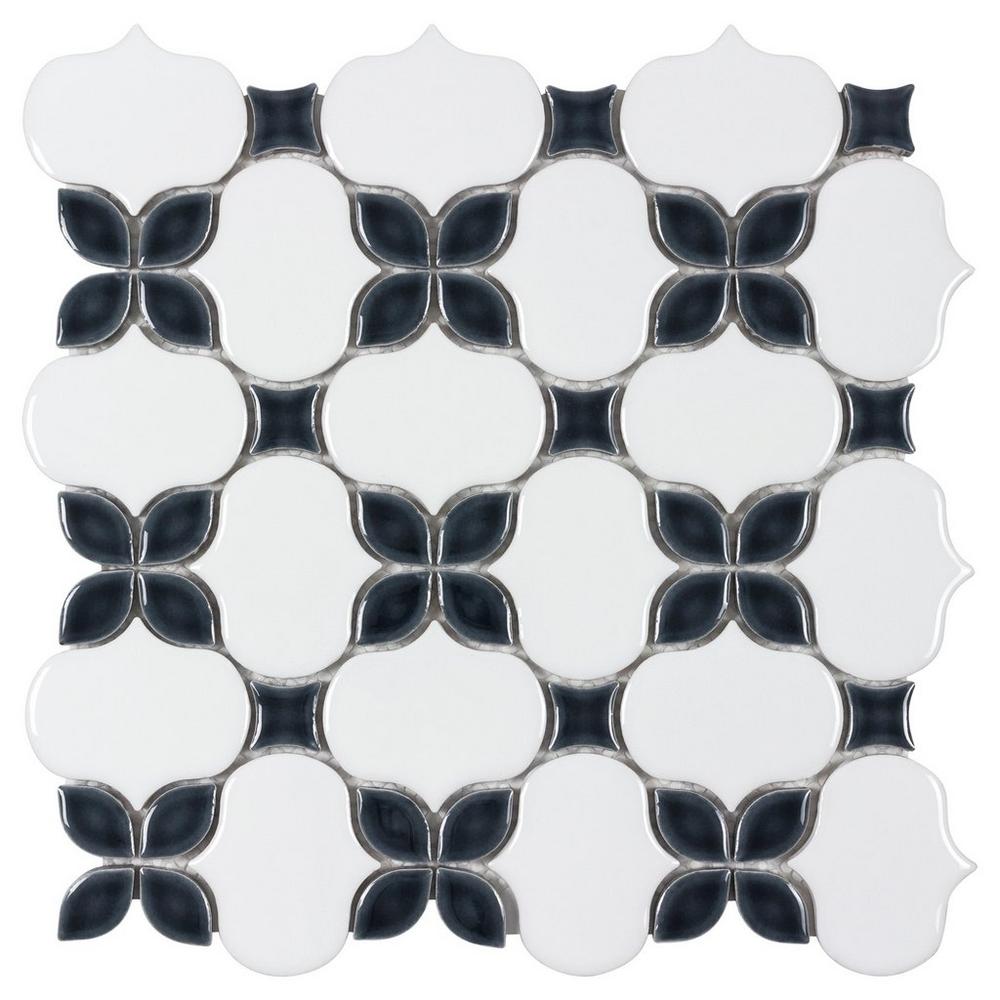 5. Iris Anchors II Polished Porcelain Mosaic
There is something so classic and appealing about black and white tile in the kitchen. The shape of this mosaic feels both fluid and geometric, and the juxtaposition of color is everything. I love the idea of this tile against birch cabinetry with gold hardware, with jute rugs and lucite barstools for a fresh and unexpected combination.